July 15.2002: Moved, Earl Hammond passes, Fanfic

Earl Hammond, the voice of Commander Walsh, passed away this May of heart failure. Mr. Hammond provided the voice to The Galaxy Rangers along with many other shows during his career. Some notables are Silverhawks (Mon-Star), Thundercats (Mum-Ra), Thunberbirds2086, Star Blazers(!), Ultraman and others. For a little more info on his filmography, check out imdb.com. Thank you ML.

AKK the fanfic machine has more fanfic to be read:

So, I'm all moved now. Mrs. Bob is still in Maine, finishing up her job and will be joining me shortly. I have cable modem access now, which I've been waiting for, well, since I moved out of the college dorms and went from a T1 to 56k. Say it with me, withdrawal.
On the down sound of things, on the third night here (and keep in mind, we live on the good side of town), my car was broken into. The window was broken, headliner torn from tearing off the dome light, new radio taken and my 35mm camera which happened to have been in the backseat at the time. Insurance covered everything but the camera (I've won an auction on eBay already for a replacement), but you still get that feeling of violation. Plus, I was just starting to like my radio. Hopefully, it's all good from that point on!
Check out my last featured b&w photo: Forgotten Stairs over at deviantart.com
June 27.2002: Moving!, Bruinhilda moves the BETA Mountain Archives

Well, this is it. Tearing down the computers after this update and the next time I update, I'll be in N.H. and on AT&T Broadband. Good bye Newport Maine and DIAL UP!!!!!!! Finally. See everyone after the move!

The actual reason for this update, I wanted to get the word out that Bruinhilda had updated and moved her site. Boasting 1107 screencaps, BETA Mountain Archives can now be viewed, pop-up and banner free at http://bruinhilda.dreamstation.com. Bruinhilda has a lot of info on GR and has been a previous contributor a to a good amount of material here on BM.org
June 16.2002: *yawn*

Packing sucks. Simple and to the point. I fixed the tripod problem by moving the screencaps to another site. They are still accessible by going to tripod first and following the link there. I came across this story concerning a possibility of a Wonder Twins action movie at eonline.com and it happens that Gaylord (see credits) would be involved. Personally, I think they should get their priorities straight, deliver me a GR DVD in a nice collectors tin with a badge impression on it and then do some 'form of a eagle, form a of a bucket of ice water' stuff after that. Though, it would be nice to see Gleek in action again. <cough cough>
This past week there was a huge amount of Christopher Rowley material on eBay, including a lot of out of print books. I just finished reading the Bazil Broketail series (minus the Wizard & the Floating City, which is pending and 'set in the world of'). Not sure what I'll start reading next.
As mentioned, I'm noodling with black and white photography, if you're interested, check this link out

Check out AKK's Fanfic list and the latest addition to it:
June 5.2002: betamountain.tripod.com

Well, as mentioned yesterday (see below) the bad news was delivered today by AKK who was on the lookout over at betamountain.tripod.com: the account is suspended. It seems to work intermittently, but it's no way to run a site in that condition. Hopefully this weekend I'll be able to balance things out between tripod and betamountain.virtualave.com, which seems have become my gravesite for the failed forum. Thanks, I think, for the tip AKK.
In unrelated news, I was able to take some really close up shots of squirrels with my new 35mm (it's an ancient manual Minolta) in black and white. Looking forward to seeing how they came out. Yeah, squirrels.
If you thought you were having a bad day, check this out:
In this month of starting a job, moving and entering the real world, I wanted to take the opportunity to say 'Hi' to Mrs. Bob. This month of June marks our 3rd year of marriage and it seems like yesterday we were sending out the invitations. Here's to Mrs. Bob, with love :)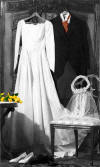 June 4.2002: GR Comic scans, Tripod

Bruinhilda scored a pickup of some the GR comics mentioned in the last update and she scanned them! Check them out over on her site: http://www.fortunecity.com/tattooine/falcon/5/comics/cindex.html while they're still available (Thanks Bruinhilda!)

Received an email from someone at Tripod the other day that stated
Dear betamountain,

We contacted you 30 days ago to remind you to reduce the size of your Tripod site to comply with the Free service disk space quota of 20 MB. Our records indicate that as of May 10th your site still exceeds the Free service disk space limit of 20 MB. Accordingly, your account is now frozen and you may only delete files or move them to another location until your site meets the quota.

So, I checked the server stats and it simply said that I was using 33MB of the 50MB I have for that site. I emailed them back and received no response. In any event, I backed up betamountain.tripod.com
just to be safe if it goes under, I'll spread the mp3's and screenshots out somewhere else.

May 29.2002: DVD FAQ, Dan Fiorella, FanFic, IRC server, GR comics for sale, notables, Rabbi Bob gets a degree

Updated the F.A.Q. page and created a DVD log page. Still getting a lot of questions pertaining who, when, where pertaining to the DVD. This is a good thing, but I post what I know, so we all know the same thing in that regard if you check in from time to time.

Check out Dan Fiorella's Staten Island Advance article, printed on 5/16/02: http://hometown.aol.com/daf118/articles2.html

Some more fan-fiction to be read!

We mentioned last month a temporary move to a new irc server and after a 5-2 vote, we've permanently moved to irc.shadowfire.org. You can now also use irc.betamountain.org to get to the correct server. Once there, join #galaxyrangers and say 'hi' to the gang. Need more info? Check out the irc page.

Bruinhilda sent along a link to Mile High Comics (a company I've bought from before with an excellent customer service section) that included some GR comic books for sale.

A few notable links sent on the list this month
Graduated with honors and Phi Theta Kappa on May 18th and I now hold a degree in computer networking. Still waiting for the actual degree, but I have a nice holder for it. In the sort of callous irony of our times, my student loan paperwork made it to my mailbox before my grades or degree. Feels good to be done, but now I have an urge for the next degree level. We'll be moving to New Hampshire soon (so if the updates seem to lag, you'll know why) and setting up shop there. Looking forward to the move!

May 1.2002: David Rosler Interview, Mr. Robert Mandell, Christopher Rowley and 'The 3rd Degree', and who knows what else...

The David Rosler chat is up now. After some consideration, I took the liberty of porting the IRC chat log over to an interview style read. It was a little less cryptic and lucid (as IRC chats go) and reads pretty well as it is. Learn about some behind the scenes information and answer that question that haunts everyone: I know Senator Wheiner looks familiar, but who is he? Thanks to David for making it possible in the first place. Check that out here.

Robert Mandell sent along a quick 'whats new' email. The DVD project has hit another snag, but he's still working on it. His publishing imprint, Red Sky Publishing is off to a terrific start. Pictured below are the covers to a few of his first projects.
Avalon - Web of Magic, published by Scholastic - 4 books in the market so far and its doing great.

Web Warriors, book 1, published by Ballantine and written by Jimmy Luceno goes out June 15.
and, well, let's just roll into the last one he mentioned, something called 'The 3rd Degree"....

Something I missed on the Ranger-L list and then was reminded by Mr. Mandell was Chris Rowley's new comic book series that has come out this year. Over at NBM Publishing's (http://www.nbmpub.com/) website, you can check out previews of the first three installments of the series.
I'm still looking for something local up here in Maine, but the previews are looking pretty good. I'm not familiar with Justin Norman's artwork, but I like it as it reminds me a little of Matt Wagner's Grendel (Warchild era to be specific), which happens to be the last comic I actively collected.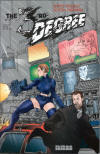 That's about it for now. My cat is playing attack with a practice golf ball at my feet. The accuracy is amazing and I'm starting to think she wants me to play with her as she neatly beans the ball right into the arch of my foot with quite a success rate. The forum is bugging me still, but I'm putting it on the back burner. Another thing that bugs me is 'Senator Wheiner'. It's pretty inconsistent here on the website, and I know some like to call him Weiner, but for me that ends up close to Weener, which he is, and maybe I'm annunciating improperly, but I tend to gravitate towards 'wh' to that end. (A bit later) Enunciating. If you like you can still picture me running around annunciating Wheiner about the place. Great thing about the web, it shows the spaghetti sauce to everyone before you knew you spilled it on your shirt. Thanks EB.
Graduation is 18 days away and that's where my mind is at :) I finished Chris Rowley's 'A Dragon at World's End' and bought 'Dragons of Argonath' this afternoon. Really liking the series (obviously). Blah blah. Have a good May, in case I don't have a chance to update for awhile. Time to go play with my cat.