New in the Episode Guide is the follow up to Gift of Life, Sundancer.

Back after a long hibernation, the 'List Member's Database' has been thawed out and posted for public viewing. It has been regenerated from a backup copy that has been collecting CD-dust (you know those CDR's that seem to sit around doing nothing but collecting dust, but are a horror to search through when you want something specific.). There are no guarantees about the quality and any offers made within the crypt are applicable.. especially the FREE HOMEPAGE offers. Be also aware that the entries are almost two years old and very outdated. Hope some of the entries bring some memories back for those who have been on the list for a while. Enter the Cryocrypt for a blast from the past here. Sometime during the fall, an update may occur.

Betamountain would like to officially welcome our new List Members, Ranger Raccoon, Mark L & Pat O.

After some fan email that arrived in different languages, Betamountain has decided that it would be worthwhile to make the language barrier a little smaller and post some links to online translators. Check out the bottom of the menu for a link.

It's a wedding weekend and Mrs. Bob and I will be away attending the union of our friends Brandi & Craig W. Best wishes. On the same note, Happy Birthday goes out to our own Fatima. To this day and many more to come ;).

This link gets the Qball Link of the Day award: Check out Shields Up to see how secure your Windows OS really is on the internet. "Shields UP! quickly checks the SECURITY of YOUR computer's connection to the Internet." You may find the information useful. [Thanks Fatima]

We're looking for people who would be interested in helping with the Episode Guide entries. If you would like to join in, please see the BetaMountain.Org section in the Forum and read the details. Or, click here.

The RangerCon3 section is about to start off with Lady Niko and Bruinhilda at the helm. Keep tuning in to see what the EWC has in store for this year!

Been a busy week here at Betamountain! We've worked out most of the bug in the CGI and we've been contacted by a few GR followers who have had some interesting news. Among them, word about a fan based CGI project (animation, not the common gateway interface) and contact with CPM about the series re-release. Read on (and watch for the RANT warning...)
On the CGI project, we were contacted by a group that wishes to remain anonymous (be warned that Mogul knows who you are...) on IRC and by email this past week..

"I represent an effects house which currently wishes to remain nameless. We had been discussing a full CGI series of GR similar to the recent Roughnecks series...."

We were told that we may (fingers crossed) see some concept images and work in a few weeks time. Buzzwang is polishing the Tri-D screen as we speak...

In exchange earlier this week, a newbie to our list had the following information to share:

"Dear Central Park Media:

I've heard that you're re-releasing the entire "Galaxy Rangers" series on video. GREAT! Do you have a release date yet? Will the episodes be available on DVD as well as VHS? If so...."

To which a reply was received:

"We aren't, we don't own the rights, don't believe the hype.

Frank P****. " My reply to this is "Get the Queenie some ice cream & don't forget the sprinkles!"
*** RANT WARNING - RANT STARTING ***
"While we at Betamountain are just as eager as everyone else is to see GR appear on shelves in one media form or another, we believe that this is the time to best exercise patience. To the best of our knowledge, the series re-release on either DVD or VHS has not been carved in stone, nor has the ink been put down to approve it. Rest assured that Betamountain will be the first to provide that event when it becomes known (join the Ranger-L list to be at Ground Zero (shameless plug)).
In the meantime, while posting any GR related news that comes up, Betamountain will be resting on the sidelines watching the game as it plays out. In short, now is the time to let those involved play their cards. Now is the time for those who sit watching to wait for the cards to fall before knowing the value. Now is not the time for irritating anyone by leaning over their shoulders to see the cards. We appreciate the interest and excitement, but remember: Patience grasshopper, patience." - Rabbi Bob
*** RANT WARNING - RANT ENDING ***

Special thanks to A-K again this week, this time for digging up the font that is used here on the menus. It seems that during the last re-installment of Win98, I failed to install the program that provided me with the font. Ann has saved me from literally having to redo all the graphics here. Thank you. As I'm writing this, yet another email pops in from Ariel with the same delivery. Thanks!

Do you have a Ranger site that you would like to have listed here at BM.org? Check out our LINKS section and add it today!

Another GR website has opened! Annie's Outpost features original fan art, fanfic, sounds, guides, and - in the spirit of the Gooseman's Drool Buckettm fan club - a Goose & Niko picture gallery.

For those that join our #galaxyrangers chats on IRC, mIRC 5.71 is now available for downloading. Check www.mirc.com to get it.

Under testing is the Betamountain Forum. Bear with me as I explore new territory on this one. Quite frankly, I can't figure out how to log off when you are using a public account. Off to the FAQ pages...

This shot was lost during the server swap:
Check out this tiled Arena shot of the Excelon from "Shoot-Out" by clicking on the thumbnail.

From the mailing list, good news from the top (Thanks Kaymo):
Check out the lineup here. If you're interested in the latest news & getting your two Starstones worth in, join the Ranger-L mailing list.

Earlier this year, Betamountain.org held a banner contest that ended May 1st. The banner(s) will be used in future banner exchange programs and become the official link banner for Betamountain.org. We would proudly like to announce the winner of the contest: Ann- Kathrin Kniggendorf! Congrats Ann!! I still need to come up with a prize... Here are her entries:


Also, be sure to check out Ann's own GR site: Bureau of Extra-Terrestrial Affairs.

Never let it be said that Bob doesn't enjoy his chances to have some fun. I've been to Tijuana, does that count for anything?!? Check out virtualtexan.com for some recipes to make the day (& night!!) enjoyable. Sadly, there are no recipes for Kiwi enchiladas. Have a safe & happy Cinco De Mayo to everyone on the Ranger-L list!!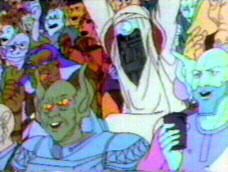 Poking around the Galaxy Ranger websites this morning and I came across the makeover at Bruinhilda's "BETA Mountain Archives." A work still in progress (and we know how that feels), but looking really good nonetheless. The Ranger goodies she has on the serving menu are enough to make the mouth water! Check it out.

Only two more weeks of hang time for BM.org! The Wife & I completed out apartment move this weekend and finals are next week. Then it is on to the Episode Guide.