Monday, February 28, 2000

Converted "K" thru "L" in the character guide & updated search index.

Looking for anyone interested in helping with the episode guide descriptions. This will simply entail writing a synopses of the episode and sending it off. If you're interested (and full credit will be given to those that do), please email Rabbi Bob.

From the mailing list, a rather interesting article entitled "University of California researchers mate human cells with circuitry" was submitted by Fatima (my online English teacher). Check it out at:
http://www.sfgate.com/cgi-bin/article.cgi?file=/news/archive/
2000/02/25/state0318EST1074.DTL&type=science
Sunday, February 27, 2000

Converted "G" thru "J" in the character guide.

Catch the X-files tonight, episode written by William Gibson
Friday, February 25, 2000

From the mailing list, Megaman's site URL is moving due to some ISP changes:
Monday, February 21, 2000

Nothing today, just a small chuckle for those that may have seen the dreaded Windows "Blue Screen Of Death" once in their lives. If you think you have problems in your cubicle, think of how the owner of this sign must have felt.


The "C" thru "F" characters of the character guide has been converted to the site format.

It's official, the Betamountain Member's Database, otherwise known as the Cryocrypt is no longer available at http://www.geocities.com/ televisioncity/set/9078/ please update any links you may have by removing it (or placing <!-- --> around the entry, as it may appear elsewhere in the future).
Saturday February 19, 2000

The "B" characters of the character guide has been converted to the site format.

Added downloads section.

Noticed that the "Ranger's Member Database" at Geocities appears to be defunct. Hopefully it's backed up on CD somewhere here and can be converted to this site.
Wednesday February 16, 2000

16:42 - The "A" characters of the character guide has been converted to the site format.
Thursday February 10, 2000
18:02 - Pre-vacation school crunch underway, no development for another week is planned.

18:14 - Not only do we have a Windows Desktop theme, but below is a link to CGfWiG's KDE theme!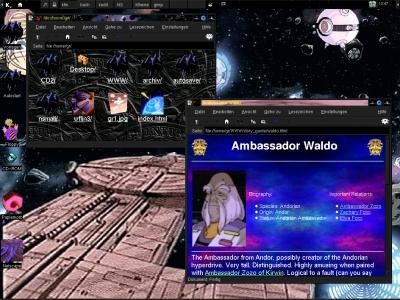 5:51 - News about Peter Wetzler has come to the list (thanks CGfWiG)
"Greetings friends, collegues and music and art aficionados:

I want to bring your attention to a few things. Thru Wednesday of this week a CD that I recorded last fall is "featured artist" in the jazz genre at www.riffage.com. Its a wild journey of acoustic colors with myself on piano and world champion blues harmonica player Chris Turner playing chromatic harmonica. We only drift into the blues briefly on one cut while the rest of the CD moves from French impressionism to free jazz.

Just arrived from the printer is my latest CD: a collaboration with my wife Julie and is available at her exhibition at the Nohra Haime Gallery (57th and Madison) through March 3rd. You can also sample mp3's of this CD at www.riffage.com in the "spoken word" genre under Hedrick Wetzler or at mp3.com, or francemp3.com. And finally I am announcing the official launch of my website: www.soundforms.net. May 1st with a live concert at our church hall in Kingston. A rough form is up currently and it will soon feature curated broadcasts of new musics such as spoken word, microtonal, unusual "world musics", and found sounds of the week.

Looking forward to your feedback.
Best wishes,

Peter Wetzler"

5:21 - added two files for Windows users:
10:00 - SG1 is on! Search engine is working for Character Guide & Site.

06:40 - Character Guide conversion started (thanks Megaman). While the Guide Link is active, the pages are still in GR CD II format. Also, the Search Engine link & episode link page have not been created yet.
Saturday February 5, 2000
10:52 - Minor maintenance with the search database, up and running (not much to search yet though). Started the Links section.
Thursday February 3, 2000
06:18 - 12 hours later... Fixed the Netscape bleeding problem. Overlapping nested tables seemed to be the problem. Thanks L.N. for the needed push. 26 today, so I won't be back for a few days.
Wednesday February 2, 2000
18:32 - #galaxyrangers info posted. Link activated. "About the Series" work underway. Corrected font & tables. 800x600 resolution or higher recommended.
20:23 - developed a short tolerance for Netscape. Fixed banner positioning & gave up on text bleed, maybe another day.
07:54 - Mailing List info reviewed & completed.
Saturday January 29, 2000
08:30 - Redesign underway, all internal links have been disabled. Stay tuned for more.
11:30 - Mailing List info posted. Link activated.

On the mailing list, Maja came announced the finding of Pazsaz Entertainment Network's Galaxy Ranger page. The page gives a list of the voice cast & the original airing dates of each episode. Check out http://www.pazsaz.com/grngers.html
The server containing the CGI account had a major hard drive failure tonight ("sounded like a head popped"). Dave at WSI Internet wasted no time in getting the word out and setting the world straight again. The CGI area will be down until I can replace the lost data.
I finally locked onto an a theme structure for Betamountain.org, and with the upcoming delivery of the CD, the character guide & episode guides will begin their conversions to the website. Here's a test image of the interface for the menu:
[REMOVED]

HAPPY NEW YEAR TO EVERYONE !!!
Welcome to the year 2000. The wheels should start turning here pretty soon at Betamountain.org, so stay tuned.
CGfWiG & Megaman have been some busy guys over the past year, gathering, assembling and producing the GR CD. Check out the work over at CGfWiG's 2086 work station. This paves the groundwork for the episode/character guides that will be available here.
Speaking of 2000 & 2086, only 86 more years to go before the Andorians & Kiwi arrive.
Hope everyone hade a safe and happy new year.