Wednesday 12-13-00 - R.B.

Happy Holidays!!!
It's that time of the year again. Here's wishing a happy and safe holiday season to everyone. Plagos make excellent stocking stuffers and psychocrystals can add that 'warmth' as a fireplace decor. Word has it that the Queen has a chimney leading straight into a psycho-chamber in hopes to catch herself on big elf this year. From the archives last year, sing along everyone:
On the Twelfth day of Christmas, Commander Walsh gave to me:
Twelve Goosemans Goosing,
Eleven Blasters blasting,
Ten Plagos bumbling,
Nine Kiwis dancing,
Eight Spy Droids,
Seven Black Hole bandits,
Six Mellie-poo's!,
Five Evil Queens,
Four shining badges,
Three data discs,
Two robosteeds and a Bubblehead in a pear tree...
And remember....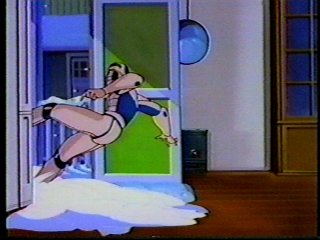 Watch out for the snow if you're traveling!

Ken Landgraf has gotten his own domain name this month. Check out www.kenlandgraf.com sometime. You'll find some really nice artwork for sale there including original G.R. stuff!

A little behind this month, but finals are here (finally). Looking through the email box tonight I found an email that Ken sent along with a little bit about G.R. promo items and working on the series:
....It was wonderful reading all your comments about the show. It was fun seeing the toys also. I remember going to Burger King and seeing the Galaxy Rangers promotion... I think action figures were given out . I still have the special napkin that was printed especially for Burger King.

Another thing that was weird about GR is that bathrooms were in the same loft space so when someone went to the "can" somebody always threw wet toilet tissue or a rubber band over the stall at you!! Looking back it was pretty funny! Sometimes guys would shoot rubber bands at you from behind your back... that was very annoying since we were suppose to be drawing... towards the end of the series everybody started showing up late for work because we knew the show was to end. I lived in New York City at the time so I'd arrive on time.... other guys commuted in from Long Island and Staten Island.

Happy Anniversary

One year ago, on November 7, 1999 (archive), Betamountain.org became a website. Through the help and coordinated efforts from the fans of the series (thanks to everyone for their contributions), this site was made possible. As it stands, we've got a ways to go before completing the site, but here we are, one year later. Not too shabby for an idea that was tossed around for 2 or 3 years (even longer than I may know) before it materialized.
One of the finer pleasures of working on the site is the chance to hear from the people that actually worked on the series. To quote a chat that took place yesterday, "We have a pretty impressive list of "in contact with's, considering that the show is 14 years old now," and it's true! We've had the pleasure of hearing from Robert Mandell, Christopher Rowley, Dan Fiorella, Ken Landgraf and John Rawlins over the past year. It's great to see people that are connected with their fan-base and who take time out of their day to say "hi." Thanks.
So, we've got this name rented for another year. Hopefully we'll get the episode guide finished and tidy up loose ends in that period. Until then, keep dropping by, join the mail list if you haven't already, check us out on IRC (kudos to Heidi, our little IRCOp) and keep your fingers crossed for a DVD release (sorry, I had to mention that....).
Betamountain.org
Wednesday 11-29-00 - R.B.

He promised it and he delivered it! Dan Fiorella (see credits) submitted his Episode Guide entry for Space Moby this week. Thanks to Dan for taking the time to re-tell the tale and thanks to Ryan Murphy for kicking the Web TV into high gear, supplying the entry with screen caps. Do you have a favorite episode? Submit an Ep Guide entry by contacting epguideentry@betamountain.org!

Be sure to check out the LINKS section. 19 sites are currently list. Is yours?

Hope everyone had a safe and good holiday. Got word back from Ken Landgraf (see credits) last week and he's alive and well in New York. He gives a thumbs up in the website (who couldn't?) and gave us the following on the very first days of working on the GR project:
I got the job at Galaxy Rangers from an ad placed in the New York Times Sunday News paper. I had already drawn for DC comics and Marvel comics so I got the job right away. Most of the other artists I don't think had too many professional accomplishments . Mandell created the series but David Gregg was in charge of getting the work out.

Several art directors gave out the daily assignments these were mostly young guys. I was about 29 or 30 at the time . The first day we didn't draw, we helped move furniture to set up the front office where Gregg and Mandell worked. The first room on the left was where Kirney worked. I think she was a producer (her sister is a producer on Courage the cowardly dog).

We would all get a section of the storyboard to work on so we never knew what the entire story would be. Years later I got a complete set of all the episodes to find out I had worked on almost all of 'em. As soon as we finished the boards which were done in pencil they would be edited and faxed off to Japan where they would be animated. - Ken Landgraf

Thanks for the info Ken!

The LINKS section is now OPEN! Got a GR site? Got a personal site? Head on in and add it to the list!

Word from Robert Mandell (credits) this week. As always, he's juggling an obscene amount of projects.
Books: Keep an eye out for some children's book series that will appear in 2001 & 2002 (Rave, Web Warriors, and Avalon, Web of Magic, to name a few). Coming up soon is a comic book series written by Chris Rowley (credits) and illustrated by Justin Norman called "The 3rd Degree."
In the movie area, a live action feature of Terry Brook's Magic Kingdom For Sale is in the works. Robert says "if you haven't read this book, it's terrific stuff." Also, an animated feature based on the classic Larry Niven (check out All The Myriad Ways - R.B.) series of Ringworld is in the works.
TV (does this man not rest?): Another join up with Chris Rowley, these two have something that is still being shopped around (so I'm keeping quiet for the moment). Expect a kick-butt, all CGI action TV series down the road. (We'll post more when it develops.)
Galaxy Rangers (Thought I'd forgotten?): The pursuit for a release (be it VHS/DVD) is holding a backseat at the moment while Cartoon Network is reviewing "Tortuna" and "Shoot-Out" for a possible broadcast window. (Dea Perez is the VP of programming down there in Atlanta - R.B.) The possibility of sending some eps to W.B. for review was mentioned. If all else fails, "we'll continue to pursue the video releases..."
So, with all that, we'd like to say "Thanks" to Robert for taking some time out of his schedule and entertaining ours interests.

Ran across a new discovery today during a routine eBay search for Galaxy Rangers material. Found a listing for some storyboard art from one Ken Landgraf (see credits)! Ken's got his own website up. I'll be sending off an email tomorrow and hopefully we'll get some comments from Ken and his latest doings.


In the same eBay search, I scoffed up some action figure pics and added them to their character profiles (something I hadn't thought of doing until today):

Also, check out RYAN'S GALAXY RANGER ACTION FIGURE COLLECTION for some pictures of Ryan Murphy's serious figure collection! (Thanks Ryan)

From the mailing list, Daniel Fiorella has had another article of his posted and this time is at the online newspaper IM-UR. Drop by the site, get to the search page and enter "Fiorella" in the search box. As always, you can keep up with Dan's work at "Fiorella's Page o'Stuff" (Thanks Daf)