04-14-01 (Guest book)

Crazy couple of weeks around the home, if you're interested, you can read them over at mikebeane.com. But the one that effects this place the most is that my ISP was bought out and now we're going through conversion to new (different?) operating procedures. My email has been in and out of existence for two weeks now, which is trying at best. I know that I have a few emails of stuff worth posting, but I can't get to them. If my memory serves me, Dan Fiorella is becoming quite a name over at Cracked magazine, now given the prompting to use his 'roving talents.' Dan also sent along more Roy lyrics, but they're lost in transition for the moment.
Loaded a Mac emulator last week and I really hope the text here doesn't look as crappy as it does in Netscape 3.04 for the Mac users. My apologies if it does. For some reason, I never got the hang of <font> settings. I did decide today that the yellow font was a tad bit much at I'm looking at switching to something that won't cause cataracts while reading along. This change will only be apparent on pages that are made from today on. Someday I'll change the other pages and spread uniformity. Yellow...what was I thinking?
Finally, a guest book. Drop a line and leave your mark when you stop by Betamountain. I added a location entry in hopes we can show how global the Galaxy Rangers are. So, enough already, go and sign.
03-30-01 ("About", DanF, Roy's Lyrics, LEE MOVES!!!!)

Enough teasing! The "About the series" section is complete. Big thanks to Fatima for doing her homework and putting together such a well done piece. Go grab a hot chocolate, get your 'Crunchies' and read all about the series.

From the dark sectors of Dan Fiorella's hard drive comes "The Ballad of Ol' Roy"

From the mailing list, check out the latest issue of Cracked (#355, Digimon cover) for some more Dan "I don't care as long as the name on the check clears" Fiorella.
The editors hype reads as "One of the hottest writers in the biz, Dan "How Do You Spell That" Fiorella transmits two hilarious computer treats: a look at COMPUTER SIMULATION GAMES, and a peek at deleted scenes from DVD's!"
Also, Dan has a new home for his writing madness over at http://www.thevines.com/leaf/AA0001793206/. Stop in and check it out. We pimp Dan out quite often here, don't we? Got GR related news? Send email to pimp_me_not_dan@betamountain.org and we'll post it when we update!

THIS JUST IN: LEETHOMPS MOVED TODAY!
It's has been a long, unsolved mystery to whether or not there is a person at Lee's terminal (Lee's the other webmaster here - RB), but as described below, we have an eye account of Lee actually making noise in IRC..
[14:55] *** Now talking in #galaxyrangers
[14:55] *** Topic is 'Welcome to the Psychocrypt'
[14:55] *** Set by Bruinhilda on Mon Mar 26 19:16:53
[14:55] *** ChanServ sets mode: +o Rabbi_Bob
[14:56] <Rabbi_Bob> Hi Lee
[14:56] <LadyNiko> wow, Lee spoke
[14:56] <LadyNiko> he just wandered off to get lunch
[14:56] <Rabbi_Bob> and I missed it..
[14:57] <LadyNiko> "LeeThomps wanders off to get some food stuffs"
[14:57] <LadyNiko> that's his only comment for the day :)
[14:58] <Rabbi_Bob> hehe..this will make the update
[14:58] <Rabbi_Bob> <VBEG>
[14:58] <LadyNiko> RB, you're evil :)
[14:58] <LadyNiko> something to go down in history....
There you have it folks, a "first person second hand account" of Lee moving about while on IRC. We'll keep you posted if he returns or if Sasquatch makes an appearance too.
03-23-01 (William Hanna 1910-2001)

William Hanna passed on yesterday at the age of 90. Mr. Hanna, along with partner Joseph Barbera, brought to the world Huckleberry Hound, Scooby-Doo, Yogi Bear, the Jetsons, Atom Ant, Johnny Quest, Quick Draw McGraw, Top Cat, Magilla Gorilla, Pixie and Dixie, Josie and the Pussycats, Tom and Jerry, The Flintstones, The Smurfs and numerous other cartoon characters that many of us grew up on. There aren't any words that can follow an act like his.
03-10-01 (WGAE #53, Megaman, FanArt, more..)

From the mailing list, check out the 53rd Annual Writers Guild Awards Ceremony. Of particular interest, check out the gentleman standing in the background right of the 5th, 7th and 12th pictures (the 12th has Jane Curtin, the host, speaking with him) and you'll see Dan Fiorella. According to Dan, unfortunately there are "no pictures with my bow-tie actually lighting up."

The newest addition to the menu links is Megaman's GR Video Page. It seemed appropriate since most of the F.A.Q.'s are concerning "WHERE CAN I FIND....??!!" Megaman has a rotating collection of GR in RealPlayer format and when you can't find it anywhere else, find it here.
Ann K. has another offering of (amazingly done) original art on her site. Check out A Photo For Eliza and the others if you haven't been there already.

As of this morning on eBay: 16 items found for Galaxy Rangers. Missing something in your collection??

On a final note, a short time ago I mentioned that I had not read any of Christopher Rowley's books. Well, I just finished Dragons of War last night and I must say that I really enjoyed the story. Now the hardest choice will be to start the series at the beginning or to go to the next book to keep the flow. Either way, I'm hooked. If you haven't read any CR yet, give it a shot.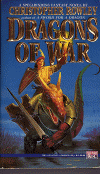 03-02-01 (Cracked, FanFic, About, Poll, ScottH)

From the mailing list, check out the latest issue of Cracked (#354, Eminem cover) for Cracked Cliques by Dan Fiorella (credited as 'Fiorello').


More GR FanFic hits the web as Ann Kniggendorf offers up "BeSODed" for reading on her site.

The 'About The Series' section is very close to completion. We had some wonderful last minute input from Master Kaymo and we should be seeing it very soon. You'll be glad you hung in there for this one!

From out of nowhere came a poll from the RangerLegacy mail list. Check out http://www.egroups.com/polls/RangerLegacy to vote for you favorite villain character that you love to hate!
Being a veteran of the Navy, I can appreciate the home-sickness of being away for lengths at a time, so I'd like to take a moment to say 'Hi' to one of our Ranger-L list members, SSgt Scott H. (RangerH), who is abroad in Italy with the American forces. That said, and yes, we are crazy...:
HI SCOTT!! <VEBG>





The current icon gallery